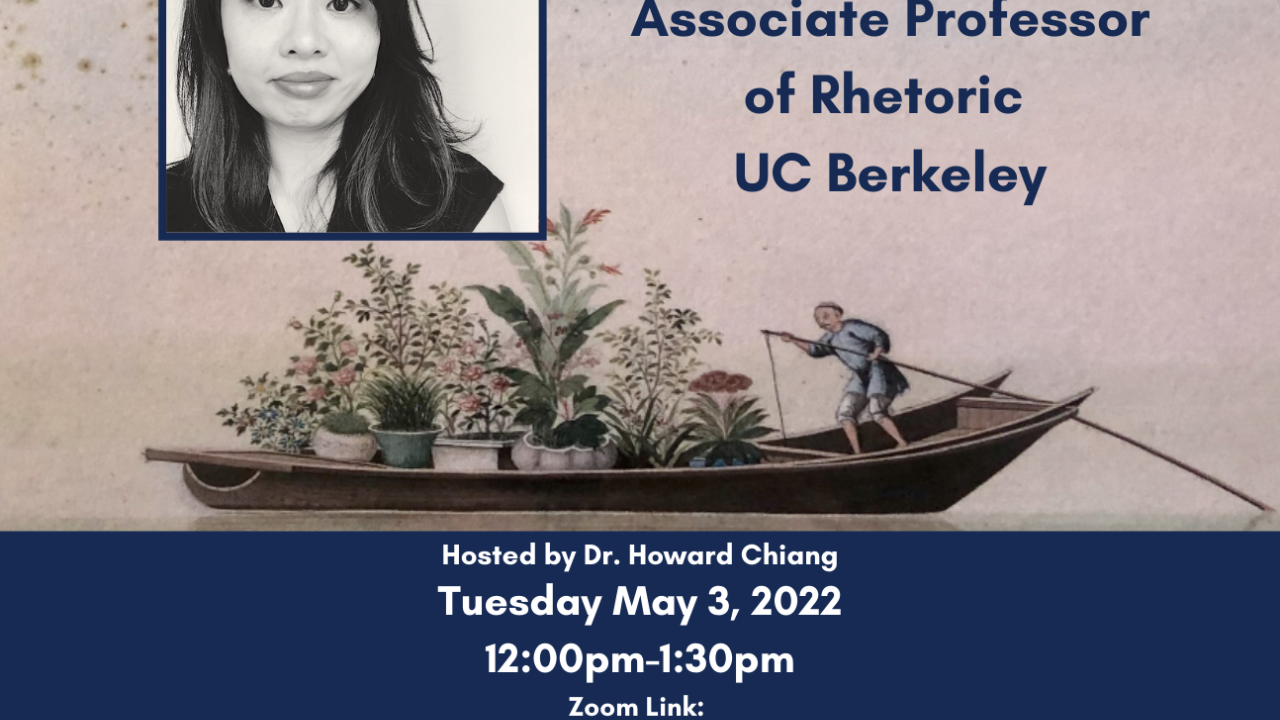 The UC Davis History Department invites you to the 2022 Liu Lecture, which is free and open to the public. It will be delivered by Professor Winnie Wong of UC Berkeley, who will speak on "'Is Not This?' Unspoken Questions and the Pleasures of Substitution" at noon on Tuesday, May 3, followed by a Q&A session. Registration information is below.
In the mid-18th century, the city of Guangzhou (Canton), became the sole port of trade through which the Chinese plant commodity, tea, passed to Europe. The quest for the tea, plant, as a living or dried specimen, as a product of knowledge or of manufacture, as an illustration or painting, lay at the heart of European natural history projects in Canton, and specially Linnaeus' project of plant substitution. In this context the city and its inhabitants flowered into a multiplicity of plants, plant names, ways to represent them, and commodities that they represented. This paper examines several instructional moments in which Chinese and European merchants and naturalists asked questions of Canton's painters, apothecaries, herbalists, gardeners, street sellers, shopkeepers, and books. While they never seemed to get a proper answer, this paper interrogates their questions: why they were asked, and why they were so often unpsoken and unrecorded
The Liu Lecture Series is hosted by the UC Davis History Department in honor of Kwang-Ching Liu. A professor of Chinese history at UC Davis from 1963 to 1993, he was a highly regarded historian of 19th century China in the U.S. We hope you can join us in this annual event to commemorate the life and work of Liu.
Contact Name
Howard Chiang
Event Category